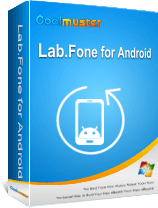 Website: https://www.coolmuster.com/lab-fone-for-android.html
Giveaway: https://www.coolmuster.com/giveaway/lab-fone-for-android.html
Download: https://www.coolmuster.com/downloads/cool-lab-fone-for-android.exe
Marvelous Data Recovery Tool Handles All Recovery Jobs for Android Devices!
Coolmuster Lab.Fone for Android, the most representative data recovery software for Android, enables you to recover lost or deleted files from Android phone's internal memory card and external SD card. With the help of it, losing valuable data from Android device is no longer a real problem.
Recover photos, videos and music from Android SD cards.
Retrieve deleted contacts and text messages from Android internal memory cards & SIM cards.
Friendly UI, support all Android phones and tablets.