Homepage: https://www.pcwinsoft.com/audio-trimmer.asp
Download: PCWinSoft_Audio_Split_Trim-3.4.4.40-gotd.zip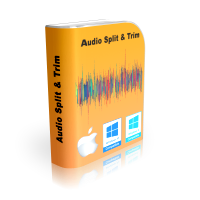 Pcwinsoft Audio Split & Trim is a powerful audio editing tool designed to help you split and trim audio files with precision and convenience. Whether you need to extract specific segments from a long recording, remove unwanted sections, or create customized audio tracks, this software offers an intuitive interface and advanced features to streamline your audio editing workflow.
Key Features:
Split Audio Files: With Pcwinsoft Audio Split & Trim, you can divide large audio files into smaller segments quickly and accurately. The software supports various splitting options, allowing you to split files based on duration, size, or specific time intervals. This feature is handy when you want to extract specific sections from a long audio recording, such as separating individual songs from a continuous mix or extracting specific dialogue from a podcast or interview.
Trim Audio Files: Trim unwanted portions from your audio files effortlessly. Pcwinsoft Audio Split & Trim enables you to remove unwanted intros, outros, pauses, or any other unwanted parts with precision. The software provides visual representation of the audio waveform, allowing you to visually identify and select the exact areas you want to trim. This ensures a precise and seamless editing process.
Customize Output Settings: Adjust various output settings to meet your specific requirements. Pcwinsoft Audio Split & Trim offers options to choose the output format, bitrate, sample rate, and channel configuration for your trimmed or split audio files. You can also specify the output folder location to easily organize and manage your edited files.
Batch Processing: Save time and effort by processing multiple audio files simultaneously. Pcwinsoft Audio Split & Trim supports batch processing, allowing you to apply the same split or trim settings to multiple files in one go. This feature is beneficial when working with large collections of audio files or when you have repetitive editing tasks.
Preview and Playback: Preview your edits in real-time to ensure they meet your expectations. Pcwinsoft Audio Split & Trim offers a built-in audio player that allows you to listen to the selected portions or trimmed segments before saving the final output. This helps you make precise adjustments and achieve the desired results.
Pcwinsoft Audio Split & Trim is a versatile audio editing software that simplifies the process of splitting and trimming audio files. With its intuitive interface, advanced features, and batch processing capabilities, you can efficiently extract specific segments, remove unwanted parts, and create customized audio tracks. Enhance your audio editing workflow and achieve professional results with Pcwinsoft Audio Split & Trim.